Earlier this month, people in San Francisco reportedly lined up for hours in the rain for day-old bagels flown in overnight from the historic New York City establishment Russ & Daughters by a customer. The $1 bagels were flipped for about $6 each with cream cheese and $12 for a sandwich in a pop-up that was not authorized by Russ & Daughters.
Imagine the possibilities if other local or regional restaurants decided to open similar pop-up cafes or restaurants to spread their cuisine to the rest of the country.
Last month, some residents in Texas, California and Colorado rejoiced at Dunkin Donuts' announcement that it was expanding West, to the chagrin of small doughnut shop owners.
Here are some suggestions for popular eateries that could host temporary pop-ups for hungry and homesick foodies near you. They're listed alphabetically by the state in which they are headquartered, though many have locations in several locations.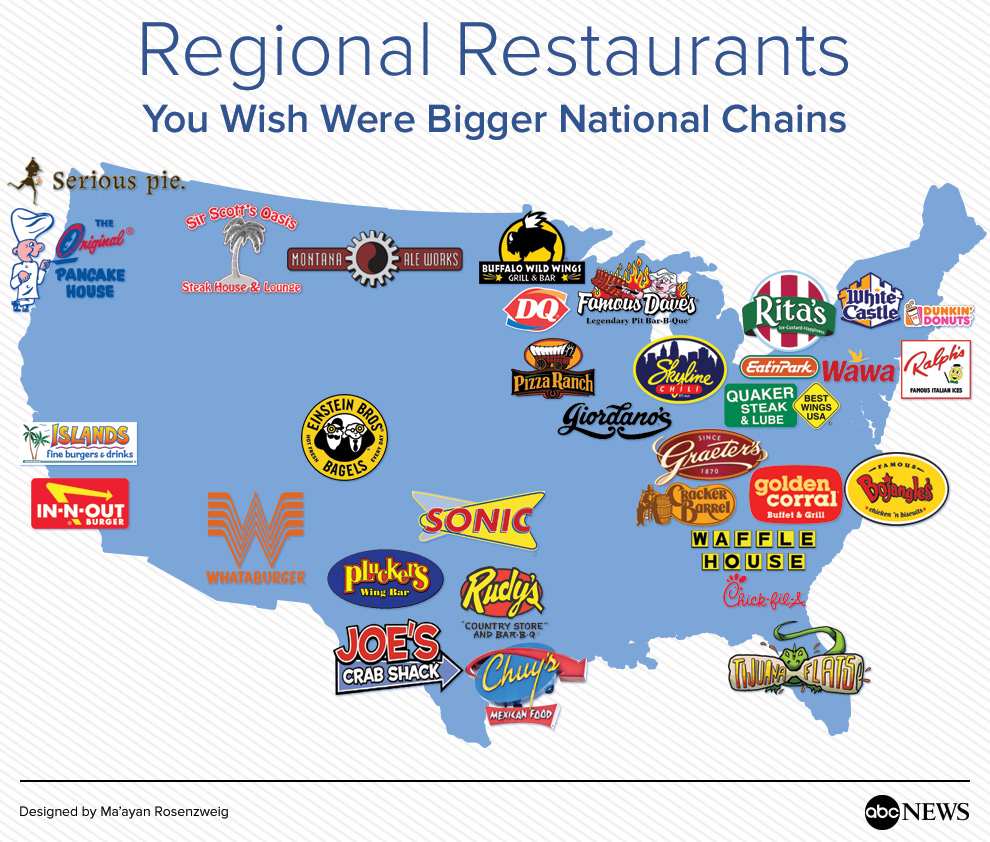 In-N-Out: With locations in the Southwest and West coast, its simple menu boasts of just "old-fashioned" burgers, fries and drinks.
Islands Fine Burgers and Drinks: "Offers a casual, tropical atmosphere featuring gourmet hamburgers, chicken, soft tacos, and fresh salads."
Einstein Bros. Bagels: With roots in Florida, this "fresh" bagel shop has more than 770 locations throughout the country.
Tijuana Flats: "Tex-Mex food served in a friendly and relaxing" environment.
Chick-fil-A: "EAT MOR CHIKIN"
Waffle House: About half of all U.S. states have a Waffle House where you can enjoy cheap, quick breakfast, lunch or dinner all day "under the yellow sign."
Giordano's: Chicago "famous stuffed pizza"
Pizza Ranch: A particularly popular chain once every four years, because candidates regularly hold events at locations in Iowa, such as Richard John "Rick" Santorum, the candidate for the 2012 Republican presidential nomination.
Dunkin' Donuts: "America's favorite every day, all-day stop for coffee and baked goods"
Buffalo Wild Wings: The first location was in Columbus, Ohio, in 1982, but the company is based in Minneapolis. Now you can enjoy wings, 20 sauces and beer at 1,000 restaurants across the country. Texas has the most locations with 89, followed by 85 in Ohio. Rhode Island is the only state that doesn't have a Buffalo Wild Wings, which will change when a location opens in Warwick in mid-March.
Dairy Queen: "Fan food, not fast food;" owned by billionaire Warren Buffett's Berkshire Hathaway Inc.
Famous Dave's: "Legendary pit bar-b-que"
Montana Ale Works: A "retro-industrial railroad freighthouse" was transformed in 2000 into possibly the most popular restaurant in Bozeman, Mont.
Sir Scott's Oasis Steak House and Lounge: In Manhattan, Mont., the restaurant says it serves the "finest steaks in the west."
Russ & Daughters Appetizers: Since 1914, this downtown landmark has served "the highest quality smoked fish, caviar and speciality foods." Fans of the smoked fish shop are anticipating its new restaurant opening nearby.
Ralph's Famous Italian Ices & Ice Cream: The name says it all; in New York and New Jersey.
Shake Shack: Shakes, custards and "purple cow" frozen desserts are a must-have. In the U.S., Shake Shack burgers are still made with Pat LaFrieda beef, except in Florida, where the locations use a local butcher, Bush Brothers, a spokesman said.
 Bojangles: "Famous chicken 'n biscuits"
Golden Corral: "Help yourself to happiness" at this buffet and grill
Sonic Drive-In: In 44 states, this chain manages to disappoint only the TV viewers who are subject to company commercials but aren't within reach of a Sonic location.
 Skyline Chili: Want to know what "Cincinnati-style chili" is that's hawked by local sports teams? Try Skyline Chili. Even President Obama has visited.
Graeter's: The "world's most irresistible ice cream" is "fresh-packed"
White Castle: In the Midwest, South and Northeast, White Castle is "what you crave."
The Original Pancake House: "pancakes as you like them"
Eat'n Park: Smiley Cookies and family-owned
Quaker Steak & Lube: What started as a "Cook Your Own Steak" restaurant now serves 80 million wings a year.
Rita's Italian Ice: Water ice and frozen custard together are unstoppable.
Wawa: Yes, it's a convenience store, but those who know Wawa's deli, rave about their sandwiches, coffee and other goodies.
Cracker Barrel: An "Old Country store" with a Southern themed restaurant
Chuy's Mexican Food: hand-rolled tortillas, salsa fresca made every hour…
Joe's Crab Shack: "America's favorite neighborhood seafood restaurant"
Pluckers Wing Bar: Locations in Louisiana and Texas; choose from over a dozen sauces and endless varieties of wings.
Rudy's Country Store and Bar-B-Q: "Real Texas Barbecue served in a family-style dining atmosphere"
Whataburger: "Home of the bigger, better burger"